Sterling dips after poll suggests hung parliament – BBC News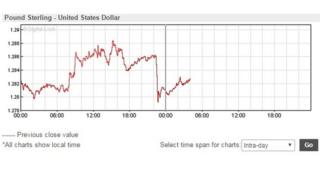 The pound fell aggressively after a projection advocated the Conservative Party could fail to acquire an outright majority in such elections on 8 June.
Previous opinion poll advocated Prime Minister Theresa May's party would increase their majority, which is currently 17 seats.
But the projection, published in the Times and based on YouGov research, advocates a probable hung parliament.
Sterling fell by more than half a percentage, but recovered some losses.
---
---