May to advise tech firms on terror content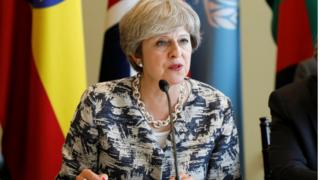 Technology companies must go "further and faster" in removing extremist content, Theresa May is to tell the United Nations general assembly.
The prime minister will also host a meeting with other world leaders and Facebook, Microsoft and Twitter.
She will challenge social networks and search engines to find fixes to take down terrorist material in two hours.
Tech giant Google said firms were doing their portion but could not do it alone – governments and users needed to help.
The prime minister has repeatedly called for an end to the "safe spaces" she says terrorists enjoy online.
---
---